Boatline, accessible at Boatline.com, is our newest digital marketplace for buying and selling boats and other watercraft. It not only utilizes our decades of digital marketing experience and SEO best practices, it also incorporates

next-gen technology to provide the fastest performing online marine marketplace

in the industry. Boatline is destined to be a major destination for boat buyers and a top source of leads for your dealership.
WHY LIST YOUR INVENTORY ON BOATLINE?
• Boatline is THE fastest loading marketplace website in the marine industry, providing the highest-quality consumer shopping experience available
• As our beta further develops, we will work to seamlessly accept inventory feeds from your website. Talk to your sales rep today for more information on if you qualify.
• According to the National Marine Manufacturers Association, the boating industry has experienced record sales in 2020, with an increase of 50% in gross receipts over 2019 and poised for growth through 2026
LEARN MORE ABOUT BOATLINE
Exclusive Early Access for Cycle Trader Customers
Just like Cycle Trader, Boatline will connect buyers and sellers and be a lead generation engine for millions of consumers, and as our valued customer, we're giving you exclusive access to this marine enthusiast audience.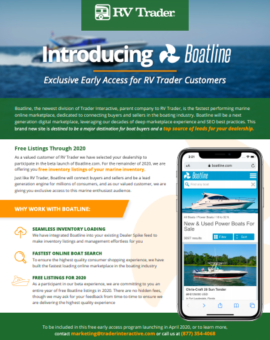 FOR MORE INFORMATION ON BOATLINE, CONTACT US TODAY